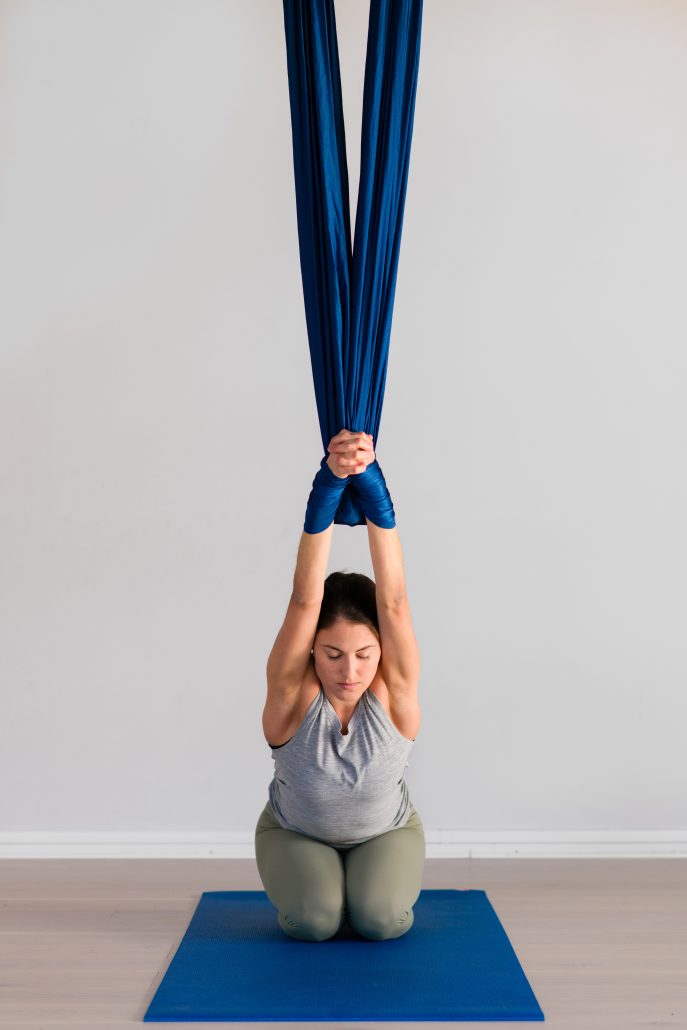 In 2018 I brought Aerial Yoga to the Malmö region with the expansion of Yoga Roots. Since then I have led weekly classes, workshops and events in Aerial yoga, and have led three aerial teacher training groups at Yoga Roots.
If you're curious about aerial yoga, read more below or listen to a digital info session where I share my personal experience teaching classes, journey to bringing aerial yoga to Malmö, and a takeaway for my personal "recipe for a great yoga class" -recommendations for yoga teachers, whether you're leading an aerial class or another type of class! Plus I answer Q&A questions about aerial yoga and the teacher training program. Link to the recorded aerial yoga seminar.
Practice with me – right now I am not leading any in person classes, but you can practice with me on youtube here. 
WHAT IS AERIAL YOGA?
A new and fun way to practice yoga. Using a gentle, airy silk hammock to support your yoga practice. In the classes you will develop flexibility and strength, working with long deep stretches and core and upper body strengthening to move in and out of the hammock. We will practice on the floor, in the air and even upside down. Attention is put on accuracy of movement and proper breathing to feel your best in the practice. Practicing aerial yoga greatly improves posture, flexibility, breathing, concentration and calmness of mind, while at the same having fun with this new challenge!
WHO CAN TRY AERIAL YOGA?
Anyone! We have students of all ages and physical levels who practice aerial yoga. It is an accessible practice for brand new beginners – to both yoga and aerial – to those who are recovering from an injury, or those who are looking to build strength and advance a mat practice.
WEEKLY CLASSES OR A COURSE?
My weekly classes are open to all levels, and you can join any of the Aerial Yoga classes as a brand new beginner or more experienced yogi.
For anyone wanting to quickly learn and progress their practice, I also offer 4 week courses for both brand new beginners and experienced aerial yogis. After the courses you will feel more confident and ready to take the next step in your aerial yoga practice.
Here are the specialised courses and immersions in addition to the open weekly classes:
Beginner Course – Level One
Intermediate Course – Level Two
Advanced Immersion – Level Three
Each course will run for 4 weeks, with 90 minute classes, and the advanced immersion will run as a half day training. 
WHAT TO WEAR:
Comfortable clothes without buttons, and a top with sleeves
NO make-up, jewelry or piercings
Wear simple, thin socks
Please wash your hands before class
Bring a yoga mat for classes
AERIAL YOGA BENEFITS:
Develop flexibility
Builds strength
Corrects posture
Teaches deep breathing
Releases and extends the spine
Improves concentration
Relieves stress
Gives a feeling of elation
Increases sense of balance